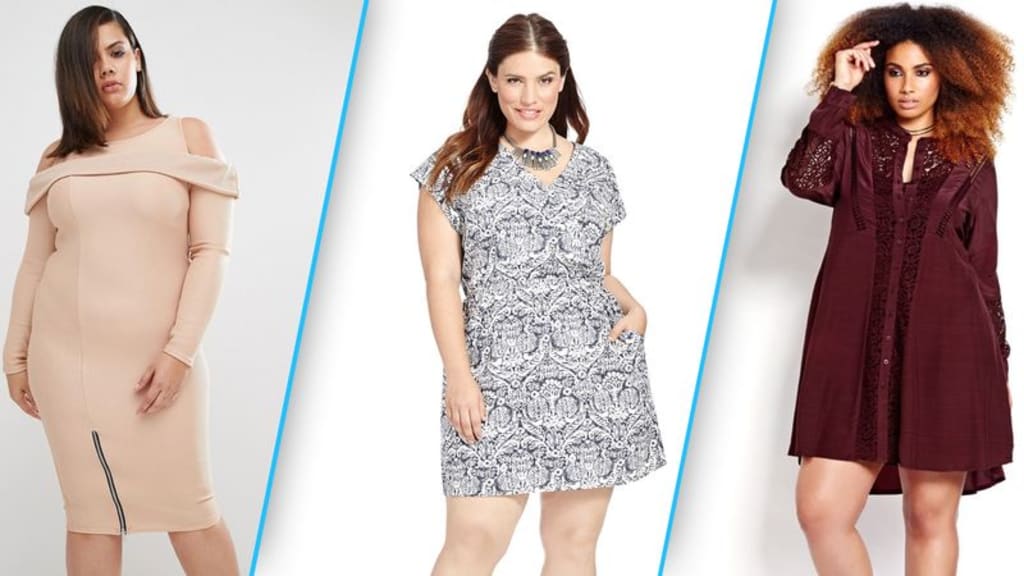 All About the Fashion Fundamentals of Plus-Size Dressing
Long gone are the days when you had to worry about your body type and dress accordingly, putting your body first rather than your preferences. Women with larger bodies had to cope with a lot of challenges, such as having their choices and colours ignored solely because it made them look overweight, according to old fashion laws.
The fashion industry has provided men and women with a plethora of options in recent years, and plus-size clothing is no exception. Plus-size women have a wide range of sizing options. In particular, if we're talking about t-shirts, this is an area where females of plus sizes struggle to make a decision. However, nowadays, sizing options are plentiful, ranging from XL to XXXL t-shirts and beyond, which has been a big relief to women to fulfill their styling needs.
Fashion has given a whole new meaning to plus size wearing, and here's how you can dispel the stereotypes and dress in the trendiest way possible, regardless of your size. In addition, you can consistently accept your body by dressing up like a queen.
Here are Some Fashion Recommendations for Plus-size Women:
You don't always have to button down your shirt: If you're a fashionista who enjoys experimenting with different looks but is self-conscious about your size, we have an excellent shirting option for you. Because of your shape, you don't always have to button down your shirt when wearing it. Instead, by pairing it with a creative solid-coloured tee on the inside, you can maintain it stylish and casual, and you'll be ready to take over the fashion world. Pair your red checkered shirt with a plain black or white tee, and add some sassy accessories to finish the outfit.
Returning to the flow of stripes: If you've abandoned the idea of wearing striped t-shirts or tops because others around you advised it, there's no need to believe the myth that stripes are your adversary. For ladies with plus sizes who enjoy dressing up in stripes, fashion has made striped patterns available in numerous sizes ranging from XL to XXXL t-shirts and beyond. You don't always have to disregard your personal preferences and love of fashion simply because you believe in those myths.
Rekindle your passion for white: How many times have you dismissed the thought of adding white to your wardrobe due to the myth that white isn't appropriate for plus-size women? If you've done all of that but still want some white, there's no need to suppress your desire for white. Plus size clothing and sizing alternatives are about more than just providing sizes; they're about giving your body a whole new trendy and alluring look. So try to get your hands on some white tees and blouses and rediscover your inner beauty by reviving your passion for the white.
You don't have to be basic all of the time: If you accept the notion that you have to be basic all of the time because of your plus size, you're generally on the wrong route in terms of fashion. If you're a fashionista, you don't have to stick to the essentials all of the time. Instead, start experimenting with your appearance by wearing cold-shouldered t-shirts and following the newest fashion trends. Following the current trends will keep you trendy at all times. Look for a pair that has draping and stretching, and attempt to be as stylish as possible.
Begin to embrace your body by wearing fitted clothing: You must also let go of the assumption that baggy garments would hide your body and that you must always carry it. Instead, show off your body in outfits that highlight your curves and follow the ongoing trend. Remember that you can only feel confident and content when you wear the clothes you want and don't believe any of the myths that try to undermine your self-esteem. Respect and love your body by dressing it in attractive tees and tops that will make you feel on top of the world of fashion.
You have the upper hand in sizing selections at Bewakoof.com, and you'll find the most fashionable plus-size tops. So, keep up with the current fashion trends and shop at Bewakoof.com, India's favourite fashion destination.